Are you interested in Medical Tourism Business? Here is a detailed business plan guide in starting a medical tourism business.
A medical tourism service is all about finding the right places with the right medical services for your clients and arranging a hassle-free trip for them. The medical tourism business alternatively called health tourism and wellness tourism. It is a term that has arisen from the rapid growth of an industry where people from all around the world are traveling to other countries to obtain medical, dental, and surgical care while at the same time traveling.
The medical tourism business is a greatly lucrative potential opportunity for entrepreneurs who have knowledge of medical services and facilities available in the places they will be catering to. Having experience in travel planning, an entrepreneur can start this business with a focused niche.
Why Medical Tourism Business is Profitable?
Over the past decade, the medical tourism business industry has exploded. New companies are emerging to help people in developed countries obtain health care services in developing countries. This is due to a convergence of factors in both developed and developing countries:
Aging populations in developed countries;
Rising health care costs and/or long waiting periods in developed countries;
Inadequate health insurance coverage in developed countries;
Technological and care standard upgrades in developing countries;
Relatively lower medical costs in developing countries;
Added-value of leisure and tourism activities in addition to receiving medical care;
Relatively low cost of travel to developing countries.
7 Steps to Start a Medical Tourism Business
To be successful in the career of medical tourism, the two most important aspects are networking and excellent customer service. You need to provide your clients with the opportunity to receive top quality medical services in foreign countries at lower prices than in their home country. To ensure the highest levels of customer service, you will need to be competent with the knowledge of premier medical facilities and service providers in foreign countries.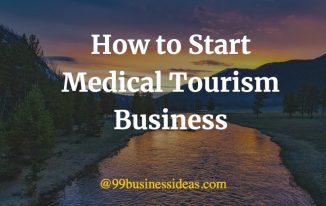 1. Understand the Market
It is extremely critical to find out the market potential of the medical tourism industry. Before investing, it is advised to conduct exhaustive market research and gather information regarding the opportunities and threats in medical tourism. If budget permits, hire a professional market survey agency and find out the feasibility of the business.
2. Create a Business Plan
After you receive the market research report, it is time to document the business plan. This report will not only help you in properly plan but also arrange finance. Some of the critical issues the medical tourism business plan must address are the following:
How much capital investment needed?
What would be the earnings?
Market Research Report
Operational Plan
Manpower Plan
Financial Plan
Marketing Plan
Services to be Offered & Pricing
3. Services You Can Provide in Medical Tourism Business
There are many kinds of services you can offer to customers in the medical tourism business. Some of them are the following:
Help with procuring a medical visa;
Booking travel to the country where the services will be provided;
Airport pick up and drop off;
Consultation with appropriate specialists;
Pre-operation accommodation;
Booking into the hospital for the operation;
Accommodation for post-operative recuperation;
Arrangements for post-operative care in a foreign country;
Book travel home from the country where the services have been provided;
Arranging emergency insurance coverage for any unexpected serious adverse events arising from the surgery that means prolonged hospitalization;
Arranging Travel insurance.
4. Form a Business Structure
Depending on the state and country you live in, you need to decide the appropriate business structure under which you are going to run the business. Talk to the local competent authority or a professional and find the appropriate form of company structure based on your scale of operation.
For example, if you are from the United States, forming an LLC is preferred by most serious business owners, as it provides certain benefits with nominal investment. There are many online LLC  formation providers you can contact to get your company registered without much headache.
5. Get Certified and Procure Licenses and Permits
To be a serious player in the medical tourism industry, it is extremely important to enhance your credentials and a medical tourism operator. Check with the tourism authority of the government, and try to arrange required certificates.
Since the medical tourism business related to the tourism industry, you will be required to deal with foreign customers. If you are not aware of the licenses required, hiring a professional makes your job easy.
6. How to Setup Medical Tourism Business
Initiating the medical tourism business demands substantial capital investment. As you are entering in the service industry and going to offer top-class hospitality facility, you will need to concentrate on hiring people of your organization. You will need to set up an office at a good retail location for the activity. Establish paneled vendors for your company.
Fix proper pricing for the services packages offered to customers. As medical tourism business service provider, you are supposed to advise your client specialized, cost-effective medical facility within their budget.
In addition, talk to the local competent authorities for required licenses and permits to operate medical tourism venture.
7. How to Promote
It is advisable to recruit a PR agency for advertisement activity. Focus online and offline both. Create your online presence by having a business website. In today's world 87% of travelers using the internet for a bulk of their travel planning. Concentrate on SEO and the most important element in enhancing your SEO is to simply create engaging content.
As people's time and attention span decreasing, a heavier focus is increasingly placed on eye-catching visuals. Capture enticing visuals and post them on your website, blog, and social media. It makes it easy for your audience to share, which in turn spreads genuine awareness about your service to others.
Focus on crafting customized tour plan for every client. Focus on customer satisfaction and ask them for feedback. Plan the trip carefully to ensure that you will have eminent, very experienced physicians – effectively the best that country has to offer.
About the Author: 99businessideas.com led by Rupak Chakrabarty is committed to helping beginners, entrepreneurs, and small business owners in starting, managing, and growing their business. Our aim is to educate the entrepreneur on the various stages of entrepreneurship.