There are many business ideas in Bangladesh, which can give you a good profit. Bangladesh is primarily an agricultural country, which makes agro-based business ideas very prospective for you.
Bangladesh has seen wide improvements in most economic indicators in the recent past. The future seems even brighter for business ideas in Bangladesh. According to the World Economic Forum, Bangladesh's GDP growth rate is forecast to be 8% in 2020.
Moreover, the service sector is also growing in the country. So, there are different types of business opportunities in Bangladesh.
40 Small Business Ideas in Bangladesh
1. Fast Food Shop
The people of Bangladesh are great foodies. Their cuisine is also full of variety. There is a good demand for fast food in the urban areas of Bangladesh, especially in the cities of Dhaka and Chittagong.
So, starting a fast food store can be a profitable business to start in Bangladesh. The location has to be very strategic, which is either in the office areas or in popular residential areas. Keep the standard and quality of your fast food very good. Along with it, you have to ensure prompt and proper service.
2. Start a Blog
There are a number of successful bloggers in Bangladesh. If you have a penchant for writing in English or in Bengali, starting a blog is worth considering. You can make a good profit from the comfort of your home being a blogger. Check our detailed guide on how to start a blog and earn money.
3. Do Small Tasks Online
There are a number of online opportunities that can provide some extra money working part-time from home with just a computer and an internet connection. This can be small gigs at Fiverr, Upwork, or sharing your opinions on survey job sites.
4. Dropshipping
The dropshipping business is gradually getting momentum in Bangladesh. The interesting part of this business is that you can run a product-selling business online without having to keep inventories. Check our guide on the steps to start a dropshipping business.
5. Start a Salon Business in Bangladesh
The Salon industry is one of the fastest-growing industries in Bangladesh. You can attract customers of different age profiles with this business idea. Previously it was limited to the rich upper-class people, but now both women and men from all classes of society visit salons for haircuts and beauty treatment.
If you have a passion for beauty and healthcare, consider starting a salon business in Bangladesh. There are many salons in Dhaka. You can think of starting the business in cities like Sylhet, Chittagong, or Cox's Bazar. Try to be very perfect in your work and use the products of a good brand. Always remember the importance of being perfect and excellent in this beauty business.
6. Coffee Shop
In Bangladesh, the demand for coffee as a hot drink during official meetings or leisure time has increased quite a lot in recent years. The youngsters also prefer coffee shops as their hangout zone.
The effect of inclination toward globalization among the youth has resulted in the preference for coffee in Bangladesh because they consider it a symbol of globalization.
Considering this trend, you can think of a coffee shop business idea in Bangladesh. Find a good location for your coffee shops like close to offices or parks, in shopping malls, or near educational institutions like colleges or universities, etc.
7. Cosmetics Shop
The cosmetics industry is growing very fast in Bangladesh. Most urban girls use one or more types of cosmetics. With a country with a huge population like Bangladesh, this is a demand in large volumes.
Now you can understand the importance of a cosmetics shop as a business idea in Bangladesh. You can sell both imported as well as locally made cosmetics. The imported ones are obviously costlier. You can also opt for an online cosmetics store, that sells all kinds of cosmetics online.
8. Start a Garment Business in Bangladesh
Bangladesh is one of the top exporters of garments globally, the garment business is highly profitable here. Both readymade garments, as well as the apparel sector, contribute a lot to the country's economy.
The garment business has a lot of profit potential in Bangladesh. It will be better if you get training on garments and their business aspects before starting the business.
Apart from a garment store, you can also do a business of garment raw materials and accessories like a needle, buttons, pins, zip, etc required to make garments. You can also do this business online.
9. Furniture Shop
The people of Bangladesh are very fond of furniture, especially wooden furniture. Nowadays, builders also look for furniture to sell furnished houses or apartments.
That is why furniture making or a furniture shop is a good business idea in Bangladesh. If you can make furniture yourself, it is very good. If you can't, you have to have a good eye and taste for good furniture. Don't compromise on quality and design. Advertise your shop well. You can also sell furniture online.
10. Professional Service (Training & Consultation)
There are a number of professional service facilities in Bangladesh. The demand for these kinds of services is increasing with the advancement of the economy.
So, if you are professionally qualified you can think of this business idea in Bangladesh. You can go for Financial consultancy, HR consultancy, and training, Audit service, Risk Management, Engineering Service, etc.
Apart from that, you can start your computer, IT training, Tax Training, etc. The consultancy can be done individually from home or in a small office. While, for the training part, you need training centers.
11. Virtual Trade
With the widespread use of the internet, virtual trading is becoming more popular in Bangladesh. This is a profitable business idea in Bangladesh if you have a good network and some trusted people on your team.
You can buy crops from districts where production is high and prices are low and sell them in areas where the prices are high. This trading can be done on items like rice, corn, cattle, meat, etc. Remember, you have to keep a close watch on the prices and sell them at the right price to earn profits. You can do this business from home also.
12. Photography
The large population of Bangladesh needs different kinds of photos from school or college admissions to family photos, corporate events to marriage ceremonies.
Marriage photographers are much in demand. If you are good at taking photos, a photography-related business can fetch good profit in Bangladesh. You can advertise your service and excellence through social media like Facebook and Instagram. Remember, try to bring out your creativity and advertise it properly. Highlight your USP too.
13. Security Agency
Big to small offices, housing complexes, and other important places in Bangladesh need security services. Moreover, with different kinds of problems, there is a demand for private security guards.
So, it is a good business idea to start a security agency service in Bangladesh. You have to train your security guards to handle different kinds of situations.
You can start with your local area if you are a city dweller. This will help to spread word-of-mouth publicity. Moreover, you have to advertise through newspapers, radio, TV, flyers, etc.
14. Tourism Business in Bangladesh
Bangladesh is a beautiful country full of the natural beauty of hills, beaches, forests, and archaeological sites. There are three World Heritage Sites in Bangladesh- the Sundarbans Mangrove Forests, the ruins of the Buddhist Vihara at Paharpur, and the historical Mosque in the city of Paharpur.
That is why; tourism is a good business idea in Bangladesh. You can offer customized or conducted tour packages to the tourists including hotel bookings, train or air tickets, etc. You can advertise and take bookings for your tourism service online.
15. Student Counseling
In Bangladesh, the number of people with degrees is increasing, but the standard is not up to the mark. As a result, they are not properly employed either nationally or in the international scenario.
If you are skilled and educated enough, you can think of this business opportunity, which is much needed in Bangladesh. You can start a career counseling service which is very much required to equip the future generation.
16. Electronic Product Shop
With the rapid growth of technology, the demand for electrical and electronic goods has grown worldwide. Bangladesh is no exception in this case.
Therefore, the electronic product shop is a good business idea in Bangladesh. You can sell a variety of products like televisions, refrigerators, Microwave ovens, Air conditioners, and Washing machines to Computers, laptops, tablets, etc.
You can take the dealership of renowned companies. Choosing a good retail location for your shop is critical for success in this business.
17. E-Commerce
The E-Commerce business has grown quite a lot in Bangladesh. With better accessibility and more people on the internet, E-Commerce has become a potential business area in Bangladesh.
eCommerce is among the most promising business ideas in Bangladesh. You can choose E-Commerce for the sales of your products. Goods can be purchased and sold through E-Commerce.
You can also export and import different items through E-Commerce and make or get the payment also. But you have to know the platform very well.
18. YouTube Channel
You can make your own YouTube channel and publicize your product or services. There are many Bangladeshi vloggers who are much popular on YouTube.
19. Social Media Manager
In the social media revolution of Bangladesh, you can also work as a social media manager, which is much in demand now. You can do this work from home.
Suggested Read: How To Be A Freelance Social Media Marketer 
20. Courier Service
In spite of the growth of online communication, there are certain documents and things that are to be delivered by courier service for prompt and hassle-free delivery.
Bangladesh also has a great demand for courier services. So, you can start your courier service business here. There are a lot of requirements for this business. You have to choose a proper office space, hire good employees, arrange vans, and do the marketing of your service efficiently. But, this is quite a good business idea.
21. Book Store (Also Online)
Bangladeshis are avid book lovers. They prefer books over many things and buy books regularly. This is the reason for you to consider the bookstore as a profitable business idea in Bangladesh.
There are text as well as non-text books, which you can sell in your shop and get a good margin. You can also sell books online for the convenience of readers. If you are technically sound enough, you can develop an app and offer a cheaper option for readers as well as earn from ads.
Read: How to Create an Online Store 
22. Mobile & Mobile Accessories
With the increasing use of mobiles and smartphones in Bangladesh, the demand for mobile phone shops is very high. So, you can start your mobile phone shop in Bangladesh.
You can advertise your shop online. For value addition, you can keep mobile accessories like chargers, earphones, back covers, etc. in your shop, along with a separate section for mobile repair. Your customer base will multiply, as well as your profit.
23. Sell Used Goods
This business has great demand in Bangladesh like in most countries of the world. The range of goods can be from electronic goods to furniture and more.
You can buy goods at a lower price, repair them if needed, and sell them. You can have your website through which you can sell these items or you can give free advertisements on some websites in Bangladesh and sell them using their platforms.
24. Super Shop
A superstore is a one-stop destination for all your grocery and daily needs. The rising number of middle-class people in urban Bangladesh and their lack of time have created a good demand for these kinds of shops.
As a result, this is now a great business idea in Bangladesh. Location is a key factor in this business. Posh residential areas are ideal. You have to maintain a good standard of goods in the shop. Advertise your shop through radio, TV, pamphlets, etc.
25. Toy Shop
Before 2010, the toy industry in Bangladesh was mostly dependent on imported toys, mainly from China. But now, the local toy industries have grown quite large and cater to a large section of the market.
This is a business that can give you a comfortable profit. But you have to select a good location where parents have the affordability to buy toys for their children. Make your shop attractive and advertise through different media.
26. Coaching & Spoken English Classes
The demand for proper guidance and grooming of students is quite high in Bangladesh. So, if you have a sound academic background along with flawless English pronunciation, you can think of coaching and spoken English class, Education always gives good returns. You can start from home and then gradually rent a room for the coaching center and appoint other teachers as and when required.
Agro-Based Business Ideas in Bangladesh
27. Poultry Eggs
The poultry farm is an old concept in Bangladesh. It still has a great demand and a good profit margin. So, this is a good business idea in the agricultural country of Bangladesh. You have to choose a proper site, a good breed of hens, their food, and proper vigilance. But you need good training and knowledge before starting the business.
28. Poultry Broiler
Like any other country, Bangladesh also has a good demand for chicken. This is an extremely lucrative business for you. In this business also, you have to choose a quiet place, high yielding variety of birds, a proper poultry house, and a suitable farming system.
29. Fishery
Bangladesh is a riverine and fish-loving country. Almost all water bodies are suitable for the fishery. You can opt for this business idea for greater gains. You have to select a suitable area without many slopes or a tendency to get flood-prone.
It is better if you can construct and design a pond exclusively for your fish farming. Then select your type of fish as per your location and demand. Take good care and feed them well. After collecting the matured fish, sell them at your nearest market or at the center of your convenience and profitability.
30. Duck Farming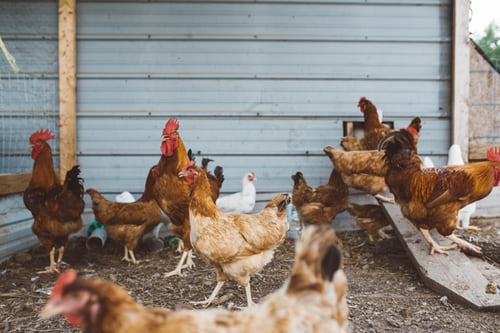 Duck eggs have more demand in Bangladesh than hen eggs. Its meat is also quite popular. So, this is a good business idea for you. Duck farming is comparatively easier. You need to have a pond or any water body. Then you have to select the breed, feed, shelter, and proper management of their disease if any.
After laying eggs, you have to clean them and pack them well. Remember, there are separate breeds of duck for meat and egg production. So, you have to choose the breed according to your business model.
31. Goat Farming
Goat meat is very popular in Bangladesh. So also the skin of a goat. You can select this business idea for a greater profit with lesser hassle. You have to follow the steps of choosing the location, breed selection, food, medical care, breeding, and marketing at the right time.
Read: How To Start a Goat Farming Business 
You have to vaccinate the goats timely to avoid diseases. Due to their high demand, the marketing of goats is not a difficult job in Bangladesh.
32. Vegetable Farming
People of Bangladesh consume all types of vegetables throughout the year. So, there is a high demand for different kinds of vegetables. You can start your commercial vegetable farming business confidently.
In the vegetable farming business, you have to ensure the sale of your products in the first step, as vegetables are perishable products. Next, select the plot and test the soil. Then, select the crop and begin the cultivation process with proper care and management. Proper advertising is necessary.
33. Fruit Farming
With the advancement of education and awareness, the people of Bangladesh eat more fruits. The main reason is health. This can encourage you to take up this business idea in Bangladesh. The steps you should follow in this business are a selection of sites, selection of required equipment and tools, analysis of the market, cultivation of a number of fruits, and promotion of the business.
34. Bee Farming
Honey is a valuable food in Bangladesh. This value increases the business prospect of a commercial beekeeping business. You can get a lot of products from bees apart from honey-like beeswax, royal jelly, and pollens which are also marketable.
First of all, you have to select a location for the optimum production of honey. For this business, you need skilled manpower and certain tools for the collection of honey from the beehives. You also need good networking with the people for getting the buyers.
35. Dairy Farming
With the growth of the population in Bangladesh, the demand for milk is rising. But the production is not that satisfactory due to a number of reasons. This can be a good opportunity to take up this business plan and earn profits. You have to be careful and consult experts like agriculturists, veterinary doctors; financial planners, etc.
Next, you have to select the breed, arrange for feeds, do proper waste management, and find the market for your product. Remember, dairy cattle not only produce milk, calves, and meat but also other products like manure, methane, and by-products like leather.
Small Manufacturing Business Ideas in Bangladesh
36. Start a Bakery
There is a considerable demand for bakery items in Bangladesh. Though the market is a little competitive, still there is a wide scope here to make good money out of bakery manufacturing if planned innovatively.
37. Spice Manufacturing
Spice is a regular food item and is widely consumed by most Bangladeshis. You can start a spice manufacturing business on small scale with limited investment.
38. Disposable Paper Plate
The demand for disposable paper plates is on the rise for the last few years in Bangladesh and is expected to grow further. You need very little investment and little space to start a paper plate manufacturing business.
39. Hand Sanitizer Manufacturing
After the covid pandemic, there is a huge growth in the sales of hand sanitizers. If you have the required expertise and knowledge to manufacture hand sanitizers, it is among the most profitable manufacturing business ideas in Bangladesh at present.
40. Face Mask Manufacturing
The same holds true for face masks. You need very little investment to manufacture face masks and there is a big domestic market to sell the produce.
Frequently Asked Questions on Business in Bangladesh
Why Bangladesh is a Good Place to Start a New Business?
There are some economic and statistical reasons for you to think of lucrative business ideas in Bangladesh. According to https://www.statista.com/, in 2018, the estimated inflation rate in Bangladesh amounted to about 5.61 percent compared to the previous year. For the next few years, inflation in Bangladesh is forecast to decrease to around 5.5. Percent.
Bangladesh is a mixed economy on the rise, with a soaring gross domestic product (GDP) and steady economic growth. Bangladesh is a fast-growing emerging economy and a member of the so-called Next Eleven – eleven nations with promising economic developments" So, it is quite evident that you can implement your business idea in Bangladesh with confidence.
The figures put it ahead of other Asian countries, including India. It could shed its 'least developed country status in five years.
A decline in population growth is also helping an increase in per capita income. The number of employed workers living below the poverty line dropped from 73.5% in 2010 to 10.4% in 2018. This picture shows a bright future for you, in going ahead with your business ideas in Bangladesh. The chances of success and profitability seem to be very bright.
What are the Profitable Industry Sectors to Start A Profitable Business in Bangladesh?
The following industry sectors are potentially profitable presently in Bangladesh:
Manufacturing
Apparels & Garments
Power Generation/ Alternative Energy
Education
Healthcare
Construction/ Highway
Travel & Tourism
Transport/ Logistics
IT and Software
Manpower Supply
How to start a business in Bangladesh as a foreign investor?
There are broadly four ways for foreigners to start a business in Bangladesh. They are the following:
You can register a private limited company.
Register your business as a branch office.
One can register the business as a project office.
Register your business with the Franchise Agreement.
We hope this list of profitable business ideas will help people in Bangladesh to start their own ventures.
About the Author: 99businessideas.com led by Rupak Chakrabarty is committed to helping beginners, entrepreneurs, and small business owners in starting, managing, and growing their businesses.